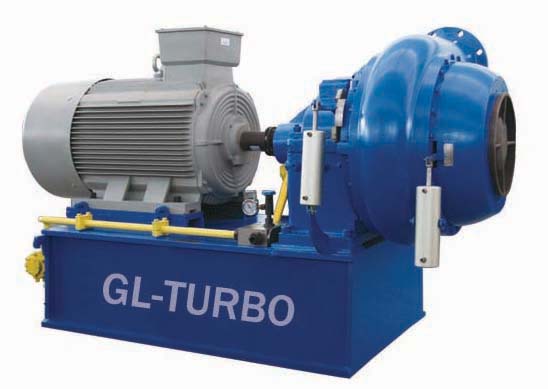 GL-TURBO series of compressors are designed specifically for the sewage aeration application. They have the highest efficiecy in the world.
GL-TURBO's world-class design includes the following features:
Inlet Guide Vane Control (IGV). It pre-rotates the air before it enters the high-speed impeller to improve the air stream condition, thus achieves a significant improvement of impeller efficiency.
Variable Outlet Vane Diffuser (VVD). It controls air volume by adjusting outlet vanes. An outlet vane has optimized asymmetrical sectional area that results in the adjustment of airflow area and minimization of outlet air obstruction.
Flow is adjustable to 45% of max design flow while maintaining constant motor speed.
GL-TURBO has demontrated great efficiency.
Since 2008, nearly 400 units of GL-TURBO blowers have been sold to more than 100 WWTPs in China, USA, Singapore, South Africa, Denmark, Taiwan, India and many other countries/regions around the world.